"Cyst" is defined as spaces that are located in the soft tissue or the bone, lined by tissues and contains pulpy fluid. They grow and expand at the locus, albeit slowly. Cysts may develop in any part of the body, but most commonly in jaws.
How Are Jaw Cysts Diagnosed?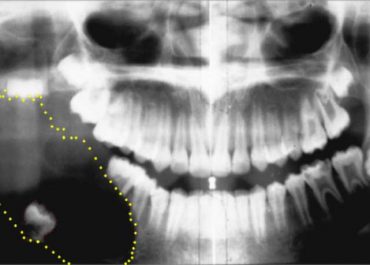 Jaw and intra-oral cysts may silently grow or do not cause a clinical symptom at early stage. A lump or swelling can be palpated at the locus due to the growth and expansion. Usually, cysts do not cause pain. The onset of pain is an indicator of infection. Numbness develops in the lower lip when the nerve is compressed. Giant ones may cause loosened teeth and spontaneous fracture of the lower jaw. Correct diagnosis requires joint review of clinical, radiographic and histopathological data.
How Are Jaw Cysts Treated?
The definitive treatment of cysts is surgery. Cysts should be surgically removed by the maxillofacial surgeon. If it is not timely intervened, it may cause serious problems, such as facial swelling, inflammation, deformation in the jaw bone and development of benign or malignant tumors.
How Is Surgery Carried Out For A Jaw Cyst?
There are two principal techniques used for surgical management of the jaw cyst: enucleation and marsupialization.
Enucleation implies total removal of the cyst or preferably removal of the cyst in one piece. The gum is elevated under local or general anesthesia; the cyst is removed and the incision is stitched.
Giant cysts are first reduced and next, they are surgically removed. Those surgical procedures are marsupialization and drainage.
Marsupialization is usually reserved for large cysts. A small hole is drilled to drain the fluid that is contained in the cavity of the cyst, and thus, the cyst is decompressed. The cyst reduces in size when the pressure is relieved. Next, the cyst is surgically removed.
In the drainage, a drain is placed in the cyst to reduce the size. The reduced cyst is surgically removed.
If the tooth is not extracted in the surgical procedure, a canal treatment is required. If the tooth is extracted along with the removal of the cyst, an implant can be placed after the region heals.
Postoperative Process Of Jaw Cyst
The postoperative process should be carefully supervised by the maxillofacial surgeon. The physician may recommend antibiotic, pain killer and oral rinse. The patient should take medicines as advised, ensure a good oral hygiene, eat soft foods for the period instructed by the maxillofacial surgeon, avoid acts that may damage the surgical site, act carefully for traumas to the jaw and follow the instructions of follow-up visit. Some cysts have substantial potential of recurrence.
Prices Of Jaw Cyst Surgeries
For detailed information on treatment costs of jaw cysts, please reach us via below form.