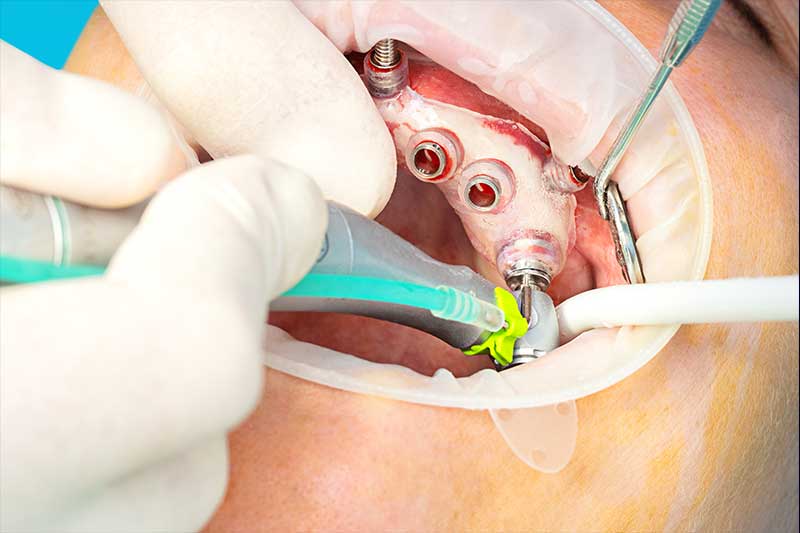 Guided Dental Implant/ Flapless Implant/ Robot Assisted Dental Implant Procedure
Implant procedure has been an ever-developing treatment type in dentistry. 3D scanning guided dental treatment is defined as a digitally scanned surgical guide showing where the implants can or need to go. A guided dental implant is a technique that assists the surgeon during the implant operation and it presents accuracy and efficiency by guiding the expert. Thanks to the guided implant technique, your implant's position won't change during the surgery. Oral surgeons are guided through all the details they need to know thanks to the 3D scan of the mouth and plan the operation accordingly. This 3D technique allows pre-designing the final prosthesis without starting the treatment.
For Implanthologists, these new 3D technologies such as guided dental implants, have brought a whole new and innovative level to diagnosis and treatment procedures and created a wide variety of options.
Robot assisted dental implant technique has enabled comfort and ease both for the surgeons and the patients. Guided dental implants help surgeons carry out the procedure more effectively and minimise the complications. Thanks to this technique, surgeons can see where dental implants can and should go quite clearly, additionally, they can implement prosthetics more seamlessly.
Implant prosthesis that will guide the surgeon throughout the process needs to be prepared before the surgery. The produced implant is referred to as guided dental implants.
Surgery includes an;
X-ray technician
X-ray expert
Prosthodontist
Oral surgeon
Importance of An Oral Surgeon in Flapless Implant Operations
To have a life long implant and to protect its functions require utmost attention. For a flapless implant operation to be smooth and effective, the oral surgeon who will perform the surgery needs to know everything related to implant materials. They should also be experts of other techniques. Only then a surgeon can foresee all possible complications and come up with an effective solution to them.
Key factors affecting the success of implant treatments are listed below;
Comprehensive medical record of the patient
Surgical techniques and skills that can minimise any possible complications
Correct implant prosthesis
Maintenance and oral hygiene after the surgery
Regular check-ups
Types of Guided Dental Implants
Most of the existing guided dental systems have a similar treatment plan and process for a 3D guided dental implant surgery. A 3D scan marks out the most accurate and desirable treatment plan on a radiographic model.
A- Guided dental implant model via existing implants
This procedure simply copies the existing prosthesis of the patient which is not comfortable in terms of stability yet not completely unacceptable in terms of appearance.
B- Implant surgical guides that are made out of a diagnostic cast based on the patient's aesthetic, functional and phonatory needs
This guide aims to detect implant areas that can be used as splints that can support prosthetic restorations during the surgery. Therefore, these splints serve as a guide to the surgeon and a radiographic measurement appliance for the surgery.
C- Guided dental implants that are designed to be used temporarily until the actual prosthesis is prepared
These types of dental implants are used during the surgery and help place the implants and adjust their sizes. These are temporary prosthesis until the permanent one is fully prepared.
Why Do We Need Guided Dental Implants?
These implant guides are used to detect the right spots and positions for the implants.
Guided dental implants help surgeons tremendously by showing them where implants should ideally go.
If the implant is placed on the sinus floor, this technique can also be utilised as a radiographic diagnosis tool.
Guided dental implants and a radiographic examination is important for;
An early diagnosis of a pathological formation
Implant planning
Surgical guidance
Post evaluation process after the implant surgery
Do We Need A Surgical Guide?
The implant's size and the possibility of an additional surgical operation is decided after a radiographic examination.
It is important to know;
Depth of alveolar bone
The horizontal width of alveolar bone
Height of alveolar bone
And to have a 3D radiographic exam of the tooth cavity between the missing tooth and the others located nearby.
Advantages of Guided Dental Implants
Guided dental implants play a significant role in extending the prothesis's life along with the implant.
5 other disciplines need to be included to create a successful and long life serving implant. Therefore, interdisciplinary attitude and having skilled orthodontists and oral surgeons on your treatment increase the chance of success.
Having guided dental implants with 3D technology makes implant placement procedure a lot more foreseeable through a digitalised planning and design technique. Traditional implant planning and traditional surgery don't allow surgeons to walk through the procedure before starting the operation as guided dental implants do. These traditional methods can't give 3D assistance to the surgeon while placing the implant.
Guided dental implant surgery minimises any incorrect application and fault between the implants before and after the mouth position.
Guided dental implant procedure doesn't only deliver a faster surgical process but also provide more comfort for the patients with the help of a pre-produced model.
CBCT (Cone Beam Computed Tomography) in Implantology
There are four different areas where CBCT can be utilised in oral implantology.
Diagnosis: Used for diagnosing foreign objects, abnormal teeth conditions.
Implant planning: CBCT provides a linear measurement and delivers a 3D study of the surface. Therefore this helps surgeons place the implant seamlessly, or informs them if they need to perform additional operations such as sinus lifting or bone augmentation.
Surgical assistance: CBCT creates data to examine the anatomical structure of the alveolar bone before the operation with the help of implant simulation software. It helps to place the implant to the surgical jawbone area without any inconveniences.
Post examination after Implant or Grafting: CBCT can also be used in;

Examining implant positions,
Evaluating the relationship between the bone and the implant surface,
Studying bones with mineral deficiency
Preventing any defection around the implant area.
Please Fill The Form To Make An Appointment With Dentram Dental Clinics Specialists