What Is A Zygoma (Zygomatic) Implant?
A zygoma implant, also called the zygomatic implant, is a technique we recommend for patients who do not have adequate bone in the upper jaw to place the implant. Zygomatic bones are strong and thick enough to allow placement of dental implants. We can produce fixed dentures for our patients with this technique using custom-made implants, measuring 4.5-5 cm in length.
How Is A Zygomatic Implant Placed?
Zygomatic implant requires more knowledge and skills relative to conventional implants. Another indication of this technique is to construct a strut for the prosthesis in patients who have lost the upper jaw due to an accident, a jaw tumor or maxillectomy.
Zygomatic implant treatment is carried out by the implantology team of Prof. Serhat Yalçın, our maxillofacial surgeon, mostly under general anesthesia.
Who Is A Good Candidate For Zygoma Implant?
The zygomatic implant is a treatment alternative for the patient who does not have adequate bone in the upper jaw or for people who have suffered resorption of the bone that is severe enough to hinder All-On-4 technique. However, it is an option for every healthy individual.
What Should Be Done After Placement Of A Zygoma Implant?
The measures that should be taken after placement of a conventional dental implant apply to zygomatic implants.
Patients need to use medicines regularly and avoid hot foods for a couple of days. Patients with a zygomatic implant must strictly avoid hard foods during the provisional prosthesis period. Patients need to eat a mechanical soft diet. The underlying aim is to reduce the load on the implants. Patients may continue with a usual diet 3 months later when the permanent prosthesis is placed.
Another important issue is to visit a dentist if the provisional prosthesis fractures. The broken prostheses can cause loss of the implant.
What Are The Advantages Of A Zygomatic Implant?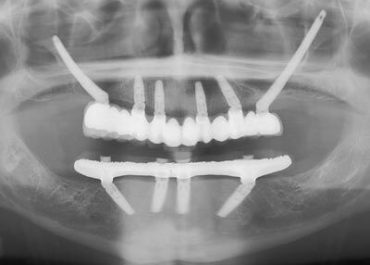 Placement of the zygoma implant is an option of quick treatment with a high success rate for people with severe loss of bone in the upper jaw.
Thus, bone augmentation, a long-term and expensive process, is not required in this group of patients with bone loss. Patients are provided with fixed prostheses quickly, as implants placed in zygomatic bones. Another advantage is the fact that it is a safe option for patients, who lost the upper jaw due to trauma or whose upper jaw was surgically removed due to cancer.
The most remarkable advantage of a zygomatic implant is the ability to place the implant to patients, who are not good candidates of implant therapy due to the absence of the upper jaw.